Dr. Michael D. Wonnacott, DDS - Colorado Springs Cosmetic Dentist
Dr. Michael D. Wonnacott is committed to providing excellence in dentistry, and stands out as a leading dentist in the Colorado Springs, Tri-Lakes, Flying Horse, and Jackson Creek area. You will find that Dr. Wonnacott uses the latest in dentistry techniques to provide you with a beautiful and healthy smile. Additionally, Dr. Michael D. Wonnacott believes strongly in education to prevent oral health problems before they occur, and makes sure to keep patients fully informed about their dental health. Read more about Colorado Springs dentist Dr. Michael D. Wonnacott below.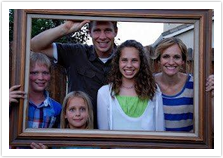 Michael D. Wonnacott, DDS
Dr. Wonnacott received his Doctorate of Dental Surgery (DDS) from Creighton University in 2002. He earned a scholarship there for laboratory excellence, and continues to build his reputation for excellent dentistry. He enjoyed practicing dentistry for ten years in Sacramento, California before relocating to Colorado Springs in 2012, his wife Courtney's home town. His wife grew up in the Springs as the daughter of a dentist who practiced in town for more than 35 years, and they are thrilled to be back for good.

Dr. Wonnacott is a conscientious and careful dentist who believes in providing only the highest quality care. You will find your time in our office relaxing and can rest assured that Dr. Wonnacott will take the time to answer all of your questions. He works with you to ensure excellent results.
He also has a great love for the lab, and has found that his steady hands and knowledge are key to producing beautiful, well-fitting and lasting restorations. He has built a lab in his home where he makes his own crowns, and is able to achieve results that enable him to guarantee his work.

Dr. Wonnacott and his family are active in our community. Dr. Wonnacott loves being a dad and spends most of his time outside the office with his wife, Courtney, their three children, and his golden retriever. You can find him playing tennis, playing and coaching soccer, hiking, biking, camping, reading a good book, and enjoying the beautiful Colorado outdoors.